Johanna Slivinske, a Clinical Social Worker at the PsyCare Howland Clinic and Adjunct Professor at Youngstown State University, presented "Therapeutic Storytelling and Play With Children and Adolescents: Techniques and Triumphs" at the 2017 Celebrate Kids! Conference in Columbus, September 21, 2017. The presentation was offered as a continuing education workshop for Court Appointed Special Advocates (CASA) volunteers and guardians ad litem, as well as professional continuing education units for social workers and continuing legal education.
There were 131 attendees at Johanna's presentation! Participants benefited by learning to:
Apply therapeutic storytelling activities in their interactions with children and adolescents
Apply therapeutic play activities in their work with children and adolescents
Support children and adolescents as they express their emotions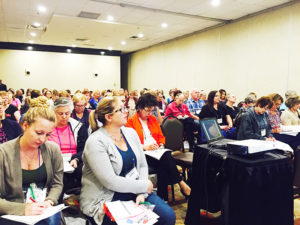 Johanna's workshop assists court-appointed special advocates and guardians ad litem as they build positive relationships with the children and teens with whom they work. It also addresses special issues related to child abuse, neglect, parental addiction, grief, disability, domestic violence, and behavioral issues, as well as strengths and resilience.
Congratulations to Johanna on a job well done!
The Celebrate Kids! Conference remains the premier educational event in Ohio for CASA volunteers, with more than 40 educational workshops offering more than 500 participants the opportunity to engage, connect and reflect on training modules that help professionals in their work with children and their families.
Johanna Slivinske, MSW, LISW, is an author, therapist, adjunct instructor, and activist. She is co-author of the books, Therapeutic Storytelling for Adolescents and Young Adults, published by Oxford University Press, and Storytelling and Other Activities for Children in Therapy, published by John Wiley and Sons. She has also authored a book chapter, professional journal articles, blogs, and poetry. In addition, she is associate editor for review quality for Reflections: Narratives of Professional Helping, a journal published by Cleveland State University. She is a clinical social worker at PsyCare and an adjunct instructor in the Department of Social Work at Youngstown State University, where she also serves as affiliated faculty for Women's and Gender Studies.