Our 9th Relay For Life was a huge success, thanks to all who participated!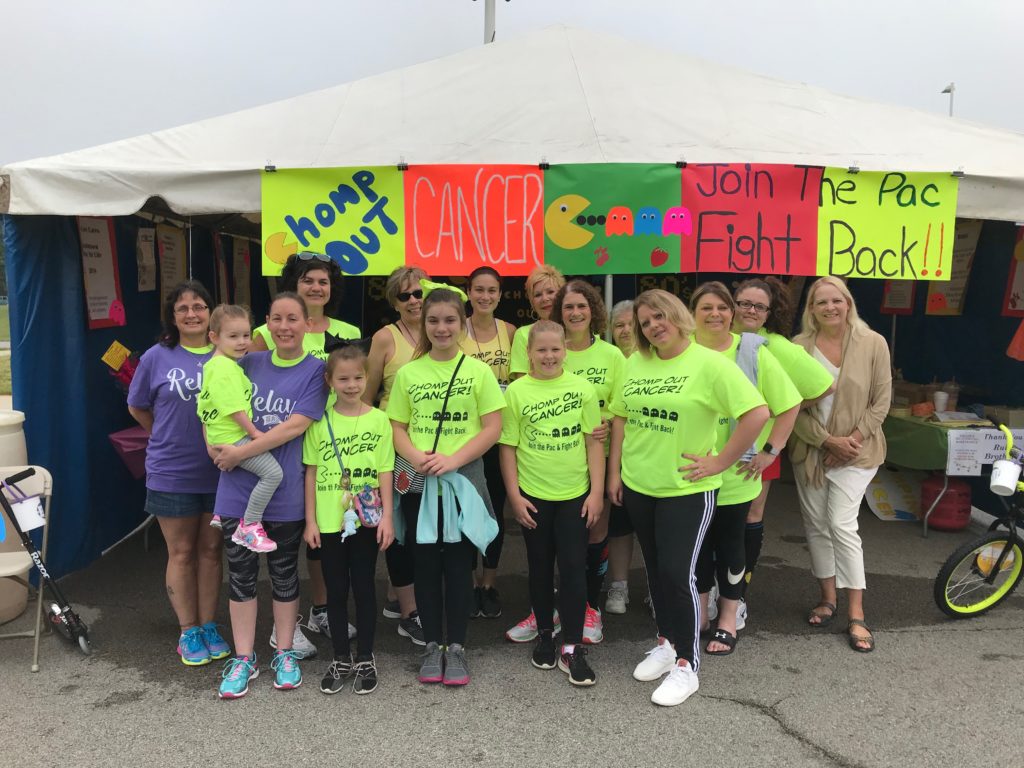 Our PsyCare Cares Team received many awards this year:
1st Place for Best Tent Decoration
1st Place for Best Educational Message
2nd Place for Best T-Shirt (Our Theme: Pac-Man; our slogan: "Chomp Out Cancer!")
2nd Place for Best Snack (Pulled Pork from Rulli Brothers!)
2nd Place for Most Twelve-Hour Walkers
2nd Place for Most Laps Walked
3rd Place for our Walking Banner
Our Team had a lot of great support this year! All this positive energy focused on a common goal that deeply affects all of us is what made the event such a success. A huge Shout Out to our Repeat 12 Hour Walkers: PsyCare CEO Lori Kelly and Erin Gabriel (Lori's daughter). Woo-hoo! We can't begin to thank them enough for their dedication and perseverance. That really puts it all in perspective when you think about the cause we are all walking for at Relay.
Thank you to everyone who walked or worked in the tent. We raised about $1,600.00 in the tent bringing us to a total of a little over $3,000.00 for the year so far. We can accept donations up until the end of July to count for this year's total, so if you have a fundraiser at your clinic or you just weren't able to attend Relay and want to donate – you still can!
A special thanks to all our PsyCare Cares Committee Members! These individuals really stepped up to the plate and handled a particular component of this huge project. They are: Jennifer Lamanna, Robyn Hagerty, Rhonda Hanni, Mary Beth Hayer, Desiree Farragher, Pam Thompson, Tissa Rudy, Shannon Kanapesky, Debbie Rendes, Kathy Dix, Melinda Rulli, and Mary Wargo. Thank you so much – you rock!
Please stop in at Rulli Brothers and thank them for all their donations to our Team. They basically provided most of the food sold in our tent! Thank you, Rulli Brothers!
Also, a special thanks to Rhonda Hanni's daughter, Jenna, and her four friends. They were present all day and entered every contest representing PsyCare and won many of them! Finally, a big thanks to all the PsyCare Clinics for all the fantastic raffle prizes! Everyone was saying our Team had the best prizes!
Again, the PsyCare name is out into the community with our educational information on flyers given out to all people attending Relay. Our T-Shirts always stand out and get a lot of good publicity for PsyCare! We know that Cancer patients are in need of good mental health support and PsyCare can provide that. Contact us if you would like to schedule an appointment!
In terms of donating to the cause, you can turn in funds collected all year long to a PsyCare Clinic near you and PsyCare will get them into our account at the American Cancer Society Office.
We are grateful for everyone who participated in Relay For Life. We Do Make A Difference and It Counts!!
Please visit our Facebook Page to view more photos from the event!
*Special thanks to Mary Wargo for the event photos & information!