PsyCare Spotlight: Anthony Durkin, BA, QMHS
Psychiatric Case Manager/IFAST
Struthers PsyCare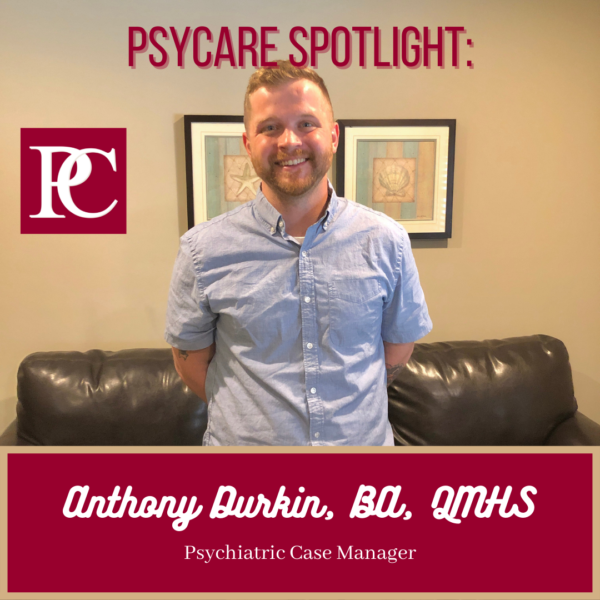 How did you get your start with PsyCare?
I was introduced to PsyCare in December of 2019. Daniel "Rocky" Brown, a Psychiatric Case Manager for the IFAST program in Columbiana, encouraged me to apply for the job because he previously was my supervisor at a local group home in Youngstown, Ohio.
However, if you're interested in how I got started in this field of work, it started as a senior in college when I volunteered at a local residential treatment facility in Wooster, Ohio called Boys Village — run by Village Network. Here I became a level four volunteer working with five separate residents on the development of a quarterly newsletter. This position led to me becoming a therapeutic staff support for an agency in Hermitage, PA three months after graduating. I did this for about a year, working with children and adolescents who struggled with emotional regulation and social skills.
After this, I became a teaching assistant for a behavioral school called St. Stephens North Academy, organized through Glade Run Lutheran Services. I held this position for over two years. I then got the opportunity to become a residential staff supervisor for the Arc of Mercer County, where I oversaw group homes for adults with mental and physical disabilities across Mercer County. I held this position for over a year as well, but was eventually referred to applying for my current position and could not be happier with where I am at presently.
Tell us about the challenge of working from home.
The challenges I experience working from home include helping my clients and their families engage in the process of what I'm here to do. I almost had to revamp my whole perception on how to address particular issues and concerns, while at the same time make the experience an enjoyable one for my clients. I do my best to give clients the opportunity to feel like I am offering them a safe place to speak to me about their issues and concerns, while they are in the comfort of their own homes.
How has life changed for you (personally and/or professionally) since the Covid-19 threat?
When the COVID-19 pandemic first started I was engaged and preparing to marry my fiancé. However, this time made us realize that we were not meant to be together and we decided to end our 7-year relationship. I personally felt this was the right decision for my life, though it made me realize the importance of self-care and handling difficult emotions in a healthy manner. Professionally, I felt that I grew in my understanding of how to address particular problems in a therapeutic way.  It was during this time I was able to recognize that assisting parents/guardians in becoming an agent of change in the lives of my clients is the most important element in terms of creating change.
What message or suggestion do you want to give people during this stressful time?
The message is to never stop learning and understand that you are your own compass. It is up to you where your compass will point — based on your good choices or bad choices. If you decide to make a choice that turns out to be a "bad choice," then learn and grow from it rather than make the same choice again.
Click here to learn more about Anthony, and here to contact the Struthers Clinic for mental health services, including psychiatric case management and the IFAST program.